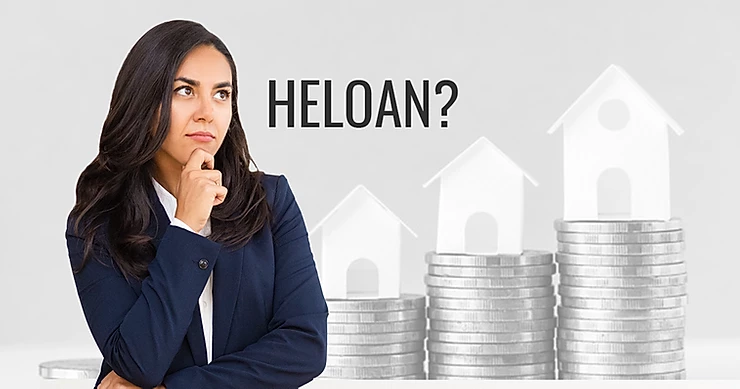 Rising interest rates on mortgages and refinancing loans are causing homeowners to think twice about tapping into the equity in their homes. But home values and equity have skyrocketed —  Home equity loans offer the best alternative to rising interest rate refinancing. You can keep your current low mortgage rate and access equity using a home equity loan.
How to tap into home equity
Your home is one of the most significant investments you'll make. The equity value increases as you pay off your mortgage and real estate prices rise. But it doesn't need to stay tied up in your house. If you want to access the equity in your home, you can. Instead of taking out a personal loan or using a credit card, you can trade your home's equity for cash at a lower interest rate. You generally have two options:
Refinance
A refinance replaces your original mortgage with a new, larger loan. The new loan comprises your existing mortgage balance and home equity that you've built up. You can "cash out" the difference between your home's market value and what you owe, effectively trading your home equity for cash.
However, increasing interest rates make refinancing a costly option.
Home equity loan
A home equity loan leaves your existing mortgage as-is. Instead, you take out a loan for the equity only. You borrow a lump sum and repay it as a separate monthly payment in addition to your regular mortgage payments. Home equity loans are the best alternative to access your equity when interest rates increase.
How interest rates impact your options
Interest is the cost of borrowing money. When interest rates go up, loans become more expensive.  With the increases already seen in 2021, combined with the coming changes in 2022, homeowners can expect to see a significant rise in interest rates.
The rising interest rate makes refinancing your home to take out equity costly — making it even more important to consider your options when choosing how to tap into your home equity.
Why home equity loans are the best choice
If you take out home equity with a refinance, you could end up with a much higher interest rate. And higher interest rates mean you'll pay a lot more to repay the loan. That's why home equity loans are the best choice to access your equity — you can keep your current mortgage with its low interest rate. For example, suppose your house is worth $500,000, and you have $400,000 left to pay on a 30-year mortgage with a 3% interest rate. To tap into the $100,000 in equity, you can refinance at the current market rate of 4.75% or take out a home equity loan for 5%.At first glance, you'd think the refinance is the better option because it has a lower interest rate.
But consider this: If you opt for a 15-year refinance the full $500,000 at 4.75%, you'll end up paying $200,062 in interest fees. But with a $100,000 home equity loan that you repay over 15 years, you'll only pay $3,366 in interest — a savings of $196,696 over the live of the loan.
Access equity while keeping your low mortgage interest rate
A home equity loan is a strategic option to access your home equity. Compared to refinancing, it's a cheaper alternative when interest rates increase.